Pererenan, Bali
Updated 1st Dec 2023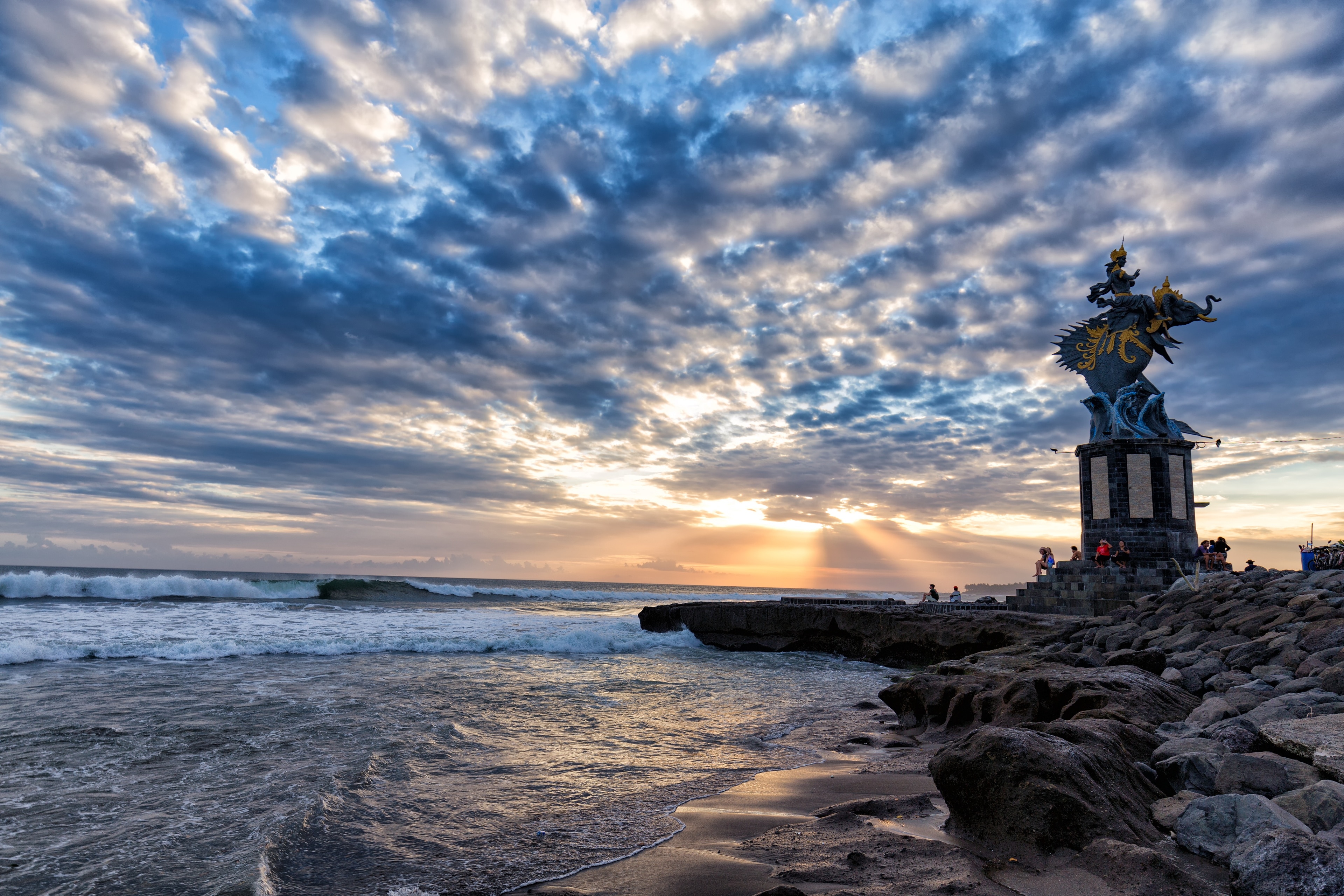 Where is Pererenan?
Pererenan is a hidden gem on the western coast of Bali, Indonesia. This enchanting village, located just north of the ever-popular Canggu, exudes a perfect blend of peace and adventure, making it an ideal destination for travellers seeking a more laid-back Balinese experience.
Pererenan captivates visitors with its breathtaking black sand beaches, offering panoramic views of the Indian Ocean and unforgettable sunsets. Unlike the busier beaches of Kuta or Seminyak, Pererenan's shores retain a sense of tranquility, allowing you to unwind and immerse yourself in the natural beauty that surrounds you.
The village is surrounded by lush, green rice terraces, providing a glimpse into traditional Balinese agriculture and a picturesque backdrop for your explorations. As you venture through the village's narrow lanes, you'll encounter a charming mix of traditional Balinese architecture and modern cafes, boutique shops, and art studios, where you can indulge in local crafts and cuisine.
Pererenan's surf breaks are a well-kept secret among surf enthusiasts. Here, you can catch waves suitable for all skill levels, from beginners to seasoned pros. Whether you're a surf aficionado or a novice eager to learn, the waves of Pererenan are sure to leave you with unforgettable memories.
While Pererenan maintains its peaceful atmosphere, it's conveniently located near popular spots like Canggu and Seminyak, where you can dive into the vibrant nightlife, dine at trendy restaurants, and indulge in a lively social scene.
Brief history of Pererenan
Pererenan's history dates back to ancient times when it was primarily a fishing community, relying on the sea for sustenance and livelihood.
As time passed, Pererenan evolved into a hub for rice farming, with its fertile lands providing abundant harvests.
Pererenan is deeply connected to Balinese religious practices and ceremonies. The locals follow age-old traditions, and temples play a central role in their lives.
Pura Petitenget Temple and nearby Tanah Lot Temple are among the revered sites in the area, attracting both devotees and tourists.
The villagers in Pererenan celebrate various festivals with great enthusiasm, showcasing their rich cultural heritage. These festivities often involve colourful processions, dance performances, and religious rituals.
In recent years, Pererenan has seen some modern influences, with sustainable tourism and eco-friendly practices gaining prominence. Nevertheless, the village maintains its roots and welcomes visitors to experience its authentic culture and warm hospitality.
Today, Pererenan stands as a testament to Bali's cultural legacy, offering a glimpse into the island's past and its enduring traditions. As you explore this captivating village, you will be immersed in the essence of Balinese culture and history, creating lasting memories of your time in this remarkable destination.
What makes Pererenan unique?
Local lifestyle and customs
The Balinese people in Pererenan are known for their warm and friendly nature. They embrace hospitality and welcome visitors with open arms. Respect for elders is an essential part of their culture, and family plays a central role in their daily lives.
Hinduism is the predominant religion, and you will find numerous temples or "Pura" scattered throughout the village. The locals actively participate in religious ceremonies, festivals, and rituals, which are essential occasions in their calendar.
Melasti Ritual
One of the most well-known customs in Pererenan is the "Melasti" ritual, where the villagers gather at the beach to purify themselves and their sacred objects before important ceremonies. During the festive season of "Galungan" and "Kuningan," the village is filled with vibrant decorations and joyful celebrations.
Traditional Balinese dance and music are treasured art forms, often performed during religious ceremonies and cultural events. The villagers take great pride in preserving their heritage through these artistic expressions.
Pererenan's connection to nature is evident in their agricultural practices. Rice farming is an essential occupation, and the lush green rice fields add to the village's scenic beauty.
As a visitor to Pererenan, you can immerse yourself in the local lifestyle by respecting their customs and participating in cultural activities. Learning about their traditions and engaging with the friendly community will give you a deeper appreciation for the rich and vibrant Balinese culture in this charming village.
Landmarks and natural attractions around Pererenan
Landmarks
Echo Beach: A renowned surfing spot attracting surfers from around the world.
Pura Petitenget Temple: An ancient Hindu temple offering insights into Balinese spirituality and customs.
Tanah Lot Temple: A historical Hindu temple perched on a rock formation by the sea, providing a breathtaking sight at sunset.
Pererenan Rice Fields: Picturesque landscapes of lush green rice terraces, showcasing Bali's agricultural heritage.
Natural Attractions
Waterfalls: Nearby waterfalls such as Tegenungan Waterfall or Nungnung Waterfall, offering opportunities for peaceful nature walks and relaxation.
Indian Ocean Coastline: Stunning ocean views and serene beaches, providing a tranquil escape from busy tourist areas.
Pererenan Beach: A laid-back beach with black sand and calm waves, perfect for relaxing or taking leisurely strolls.
Cultural Sites
Melasti Ritual: An important purification ritual held on the beach before significant ceremonies, offering insights into Balinese religious practices.
Festivals and Ceremonies: Experience the vibrant celebrations of Balinese festivals like Galungan and Kuningan, showcasing the village's cultural richness.
Traditional Dance Performances: Enjoy traditional Balinese dance performances held during various cultural events and religious ceremonies.
Things to do in Pererenan
Surfing and Beach Activities
For experienced surfers, the challenging waves provide an exciting and rewarding experience. Beginners can take advantage of the surf schools and instructors available at Echo Beach to receive guidance and improve their surfing techniques.
Due to the varied surf conditions, Pererenan is suitable for individuals with different skill levels and ages. Whether you're a seasoned surfer looking for a thrilling ride or a beginner eager to try surfing for the first time, Pererenan's surf scene caters to all, making it an excellent destination for a fulfilling and enjoyable surfing experience.
Yoga and Wellness Experiences
Whether you're a beginner or an experienced practitioner, you can find yoga classes suitable for all levels. These classes typically take place in serene and peaceful settings, such as beachfront locations or amidst the lush greenery of the village.
In addition to yoga, Pererenan offers wellness treatments and therapies to promote overall well-being. You can indulge in traditional Balinese massages, spa treatments, and holistic therapies that incorporate natural ingredients and ancient healing techniques.
The village's tranquil atmosphere and natural beauty create the perfect environment to embrace a wellness journey. So, if you're looking to relax, recharge, and immerse yourself in a peaceful setting, Pererenan's yoga and wellness experiences are sure to provide a rejuvenating escape from the hustle and bustle of daily life.
Pererenan Beach
Pererenan Beach is renowned for its unspoiled beauty and relatively untouched landscapes. The soft black sands stretch for miles, providing ample space for sunbathing, beach games, and leisurely walks. Unlike some of the more popular beaches in Bali, Pererenan offers a more serene and less crowded environment, allowing visitors to experience a sense of tranquility and seclusion.
The waves at Pererenan are perfect for surfers of various skill levels. Surrounded by lush green rice paddies and swaying coconut trees, the beach's scenic backdrop creates a picturesque setting for photography and sunset gazing. If you're a nature lover, you'll appreciate the diverse birdlife and the opportunity to observe local fishermen going about their daily routines.
Photo by Rio Lecatompessy on Unsplash
One of the drawbacks of Pererenan Beach is that it lacks extensive tourist infrastructure. While this is part of its charm, it also means that amenities such as beachside cafes, restaurants, and shops are more limited compared to the more developed tourist areas of Bali. If you're looking for a vibrant nightlife or a wide range of dining options, you may need to venture to nearby towns like Canggu or Seminyak.
Additionally, during the rainy season, Pererenan Beach may experience stronger currents and larger waves, which could be less favorable for swimming, particularly for inexperienced beachgoers. It's essential to pay attention to local advice and safety flags when entering the water.
Pererenan Weather
Like anywhere in Bali, Pererenan has a tropical hot climate all year round. Temperatures only really fluctuate by a few degrees throughout the year; ranging from around 26 degrees to mid 30 degree celsius. This makes Pererenan (and Bali as a whole) a perfect sunny destination all year round.
The rainy season in Pererenan runs from around September through to February but don't be fooled by the name. Even during rainy season there are long hot sunny days with most showers happening for an hour or two in the late afternoon or evening.
Monthly Temperatures
Have an enquiry about this website or domain? Contact us as hello@pererenan.com